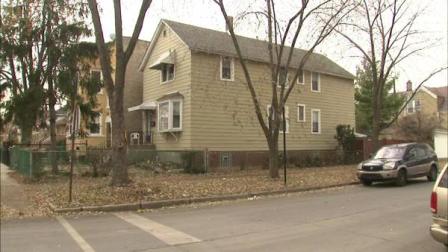 Walt Disney slept here
It's an ordinary house, as houses go. Walt Disney did not come from wealth, and his childhood home is a reflection of his humble origins. That's how it goes. When you don't have much, you use your imagination to create what you can't possess, and so the Disney empire was born.
The neighborhood has always been working class, a place to get a foothold on the American dream. These days, the residents are Hispanic. When Walt Disney's father built the house in a newly developed section of a growing city, the residents were also immigrants who came in search of opportunity. The
World's Columbian Exposition
was under construction and there were jobs for anyone willing to work hard.
The house where Walt Disney grew up was on the market for a long time. Those who might have jumped at the chance to own a piece of Disney's past were not jumping to buy once they took a look at the neighborhood.
It has taken a couple from California to see beyond the run-down surroundings and envision a tourist attraction.
Brent Young and Dina Benadon have a dream,
something they might have concocted while working at their animation studio. They bought the home and would like to turn it into a museum that celebrates imagination and creativity, a place to bring children to fire up their imaginations and inspire them to dream big dreams. If a boy could make up Mickey Mouse in such a humble place, so could anyone from equally meager beginnings start up an entertainment empire.
So if you're on board, how about a nice little donation to their dream? The museum won't happen unless someone else pays for it.
There might not be a return on your investment. The place could fail and the museum fold in short order, and the house could be put back on the market with the profit (or loss) to the couple holding the deed for the property.
Mr. Young and Ms. Benadon are turning to
Kickstarter
to raise half a million dollars to pay for the renovations.
They must have a lot of friends, or a few with a lot of money. Maybe they're relying on all those Disney-philes who might want to see the home preserved as a museum, rather than allowed to decay and fall to pieces.
Even so, it is a great deal of money to get from strangers. The city of Chicago and the State of Illinois are flat broke and deep in debt, so there's no public funding to be had.
The California couple have big dreams, like Walt Disney. Whether or not they can make them come true is another matter, in a time when there isn't any extra money to go around no matter how worthwhile the project.