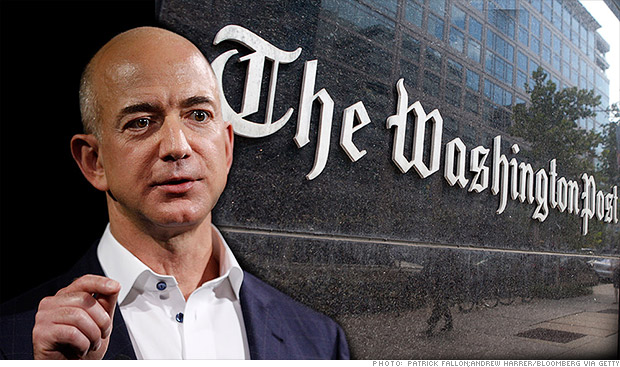 Amazon Is Not Enough
Why did
Jeff Bezos buy the Washington Post?
Where is the connection between his start-up e-tailer online store and an influential newspaper? Sure, he could sell subscriptions to the rag on Amazon, but that wouldn't require the purchase of an entire news organization.
Now we know.
There's been all sorts of coverage about Amazon's attempt to squeeze ever bigger discounts out of publisher Hachette Book Group. It was obvious that negotiations were not going Amazon's way when people in the publishing industry noticed that
Hachette books were suddenly not so readily available via Amazon
.
Delays in shipping arose from nowhere, and as for the recommended books that Amazon lists for the buyer, Hachette works were not making the cut. Others who bought this also liked these, Amazon tells you when you buy, and you might also like these but they aren't published by Hachette and it was no coincidence. Want it now? If it is published by Hachette, you'll have to wait extra long. And if you have to wait extra long, maybe you won't bother to click "Buy" and that's one less book sold.
Amazon sent a signal to Hachette, a power play that was intended to bring the publisher back to the negotiating table, and with an awareness that the publisher did not hold many cards at all.
The story was covered and much discussed because Amazon has become a powerhouse of book selling. When it comes to digital editions, Amazon is far ahead of the rest.
That a judge thought Apple should be punished for unfair pricing
that hurt the consumer when Amazon is putting the more powerful squeeze on suppliers, you would think that some editorial writer would take note of the inequity and say something.
The
Washington Post
has some influence, particulary in its home market of Washington, D.C. What are their business reporters reporting? What are their editorial directors writing?
The dust-up between Amazon and Hachette, according to the WaPo, is not such a big deal. No, not at all.
It's a very good thing for the consumer
because our hero Jeff Bezos is driving down prices for them. He is their champion.
As for questions of creating a monopoly via predatory pricing, there is no mention. That's the other side of the monopoly coin that, for some remarkable reason, the WaPo seems to have forgotten.
Forgotten? Perhaps not forgotten, exactly, but conveniently ignored because the owner of the WaPo, our hero Jeff Bezos, is in a position to put his spin on his activities.
Citizen Kane
is one of the most brilliant films ever made, but it was based on a real person who built up a real news empire and used the power of his presses to influence public opinion.
Does Jeff Bezos have an old sled stored away in his cellar somewhere?
Rosebud.....