Those who cared about JPMorgan Chase spoke up.
The suits didn't listen.
Because maybe, just maybe, the London Whale would pull it off.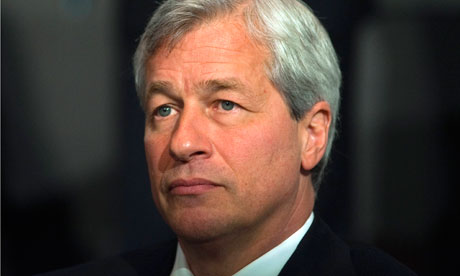 Gamblers have a tendency to believe that the next big score is coming. One more throw of the dice. One more. Another. This one for sure. Until they've used up all their money and there's no getting it back.
According to reports, those who worked at the London branch of
JPMorgan Chase
, the unit that is credited with losing two billion dollars in bad investments, had complained about Bruno Iksil's activities.
He's heading for a fall, senior banker Bill Winters said, as far back as 2007, but who could hear one voice over the roar of an excited crowd that wanted Mr. Iksil to succeed. There was money for them riding on it, after all.
Chief Investment Officer Ina Drew made somewhere in the vicinity of $14 million thanks to Mr. Iksil's past bets on the market. Why rein in him?
Now Ms. Drew is also in trouble, like a co-conspirator or the chief investment officer who was supposed to be minding the store but was too preoccupied with the contents of her own till to notice that risky investments were being made en masse.
Over all, no one above Mr. Iksil paid much attention to the warnings issued by those in the trenches who could see quite clearly where the bets on risky derivatives were headed. Is there any satisfaction for them now, to say "I told you so" to all those deaf ears?
That "I told you so" is going to resound in the ears of stockholders, who don't like owning shares in a company that's run so poorly. They won't vote to retain a CEO who doesn't know what's going on as billions of dollars are wasted, billions of dollars that could be used for stock dividends to the stockholders.
Ina Drew and Bruno Iksil will likely be fired for incompetence, but will
Jamie Dimon
survive the coming storm?
It depends on how much time he has before the next stockholder meeting, to dance around the issue, apply patches, and slap a coat of whitewash on the JPMorgan facade.