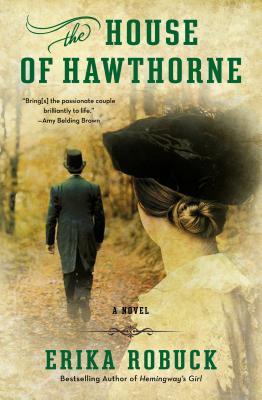 Happy families are all alike, said Leo Tolstoy in the opening of a novel about a most unhappy family. Unhappy families make for better novels because they are unhappy in so many different ways.
To read THE HOUSE OF HAWTHORNE is to read of a happy family, but the alikeness will draw in readers of romantic fiction who crave the reveries of great, passionate love and a couple devoted to each other. They are poor, then they are comfortably well off, and they never lose their passion despite the ordinary difficulties of life in the 1840's.
The novel approaches the tale of Nathaniel Hawthorne and his wife Sophia Peabody through her eyes, the wife whose creative talents were suppressed so that she could be a mother. This is no feminist screed, but an historically accurate depiction of a choice made. Ms. Peabody was a gifted artist who put aside her brushes for motherhood, at a time when women were expected to retreat into the background and support their husbands.
There is no definable plot. Rather, the novel is a timeline of events that reel in the literary world of the Transcendental period. Thoreau and Emerson have their time on author
Erika Robuck
's stage, a 'Who's Who' of American letters set against a backdrop of turmoil as the country lurched towards the Civil War.
THE HOUSE OF HAWTHORNE leans more towards the romantic side of romantic historical fiction, and it can drag in the early going. Sophia's time in Cuba did not really add much to her character's development, and I was left wondering why so much space was given over to that part of the narrative.
The novel is a good choice for a summer beach read. The characters are not quite three-dimensional, and they don't do much besides live an ordinary life, but there is a place in publishing for books that exist only to entertain.
Disclaimer: This is a First-To-Read copy from Penguin.