Jesse Burton was walking around a museum in Amsterdam when she spotted a miniature house. As an only child growing up in England, she had played with a dollhouse, and a dollhouse is just a house in miniature. Many a woman has kept a love for her childhood toy and expanded the interest to a more adult pursuit that is the room in miniature, filled with detailed trappings more elegant than they had as a little girl.
Chicago's Art Institute is home to the famous
Thorne miniature rooms,
a collection of tiny reproductions of period styles. But when you gaze upon the scenes, do you see tiny books and candles, or do you see yourself in the room, a character in an historical drama? Do you marvel at how a human hand could craft something so small but so accurate, or do you find yourself thinking about a woman who commissioned the construction? From that spark, then, your mind takes you into a story of your own creation, a fiction based on the inspiration you found in an art exhibit.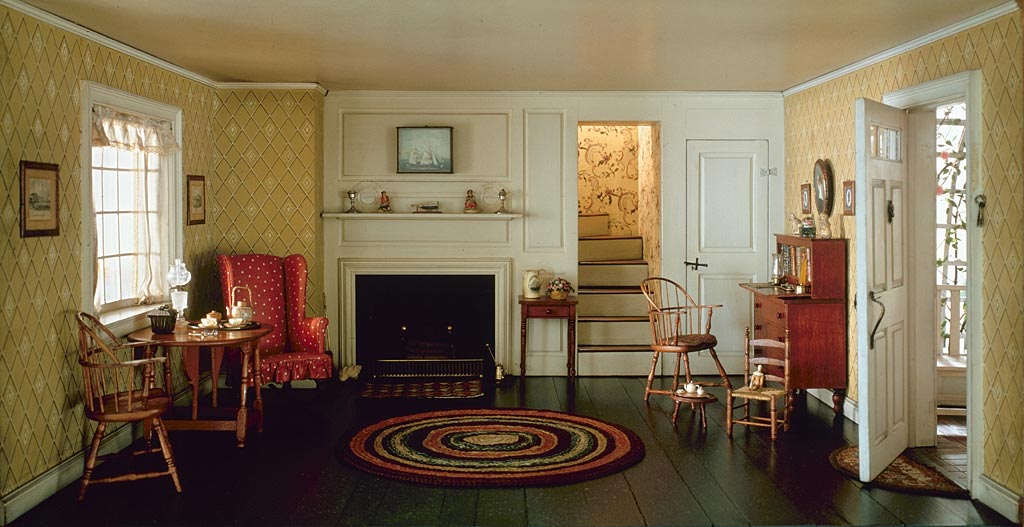 Put people in here and let your imagination take over
That is where Jesse Burton found the inspiration for a novel that has been selling well in England. She was drawn to a miniature house on display, one woman's reproduction of her own home. In cold reality, it was more likely just the hobby of a wealthy and bored housewife who felt a sense of accomplishment in doing something creative, at a time when there was little that a woman was allowed to do.
For Ms. Burton, the cold reality was not what inspired her, but a notion in her head. What if the housewife was actually a young bride married to an older man? In the 1680s when the miniature house was made, it was not unusual for a man to wear out one wife and take another who was young enough to produce more offspring.
So what then? The bride would be less than happy, of course, saddled with an old man...but a good novel needs a bit of mystery so the husband would have to be carrying some deep, dark secrets that the bride was determined to tease out. And where would the dollhouse fit in? A secretive stranger, one with magical powers to appeal to fans of Harry Potter, would be the source of the miniature objects decorating the miniature rooms.
Much of what an author devises comes from an observation that leads to those "What if" questions, which the author then answers in the text of the manuscript. It is a way of looking at things that may differ from the way that non-authors look at things. You could suppose that your friend the structural engineer would see a miniature room in one way, while you would drift into a world of make-believe that has nothing to do with load-bearing walls.
The work of historical fiction with strong elements of mystery garnered a six-figure advance for Ms. Burton, and
the book has been heavily promoted to reflect the importance
of
THE MINIATURIST
to Picador's bottom line. The book is set for release in the United States, and the promotion will be just as heavy. The publisher has invested a lot in display pieces that reflect the theme of the book, intended to be erected in bookshop windows or used on front tables where reader's eyes are most likely to land.
What will inspire you as you go about your life this weekend?
It could be something large. Or it could be something small. Very, very small.