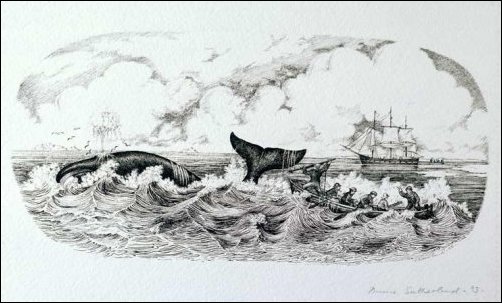 Long ago in far away times, men took to the sea to hunt whales.
They wanted those whales for their fat, which could be melted down into oil for lamps. And many, many children studied their textbooks by the warm glow of the whale oil lamp.
The bloated whale that was Riverside-Houghton Mifflin-Harcourt-Greenwood-what have you has undergone a very quick process that resembles liposuction, although the publishing whale's blubber isn't convertible into oil.
It was convertible into warrants that reduced the debt load of Houghton Mifflin Harcourt.
As if by magic,
HMH dropped 3.1 billion US dollars of debt
, and if you've ever tried to diet, you know how hard it is to shed that much excess baggage.
With less debt to pay interest on, the slimmed down publisher expects that the reduced drag on the bottom line will help the firm to swim along through educational publishing materials waters, determined to remain on its fiscal diet.
There won't be any more publishing houses swallowed up by HMH any time soon.
The over-arching problems, however, remain.
Sales are down because local school boards have no money with which to buy new textbooks. In trade, there has been a decline in purchases as the general public hangs on to its cash to put petrol in the car, rather than a book on the shelf.
Employees have been paid while HMH undertook the Chapter 11 Cure, but there can be no guarantees that they all will continue to be employed if demand doesn't increase. At some point in the future, depending on the state of the global economy, there may be yet another restructuring.
There may be a need to shed a few more pounds, in the form of synergies to be realized (giving employees the sack, in standard parlance). And then there's the more desperate tack of radical surgery, in which large sections of assets are sliced off the HMH whale and sold as going concerns to other publishers, with the proceeds bringing in needed cash to pay off a stubborn debt load.
Yes, anyone who's had to diet to save their life can tell you how hard it is to lose weight, in spite of the most drastic actions.
I mean, have you seen
Carnie Wilson
? She's undergone a second weight loss procedure herself, after the first one proved ineffective.
We're all hoping that this time it sticks.