DOWN by the salley gardens my love and I did meet;
She passed the salley gardens with little snow-white feet.
She bid me take love easy, as the leaves grow on the tree;
But I, being young and foolish, with her would not agree.
In a field by the river my love and I did stand,
And on my leaning shoulder she laid her snow-white hand.
She bid me take life easy, as the grass grows on the weirs;
But I was young and foolish, and now am full of tears.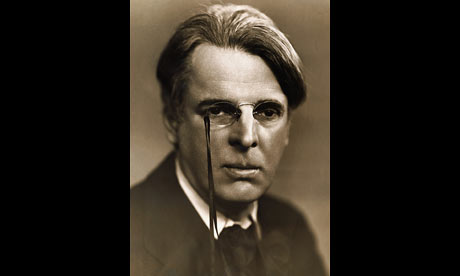 How is it that a work of prose that is considered a masterpiece is rarely read?
But William Butler Yeats' poetry is not only read, but the average non-Joycean scholar can understand and appreciate it.
Yet until now, it's been James Joyce and
Bloomsday
that's been celebrated, with tourists and lovers of
Ulysses
(have even half of them read the thing?) tromping across Dublin, tracking the path of the book's protagonist.
Eating lamb kidneys and savoring the slight tang of urine---give me Yeats any day and keep the offal.
The folks in Sligo have decided that their man is worth a day of honor as well. Let's face facts. There are many who have read Yeats, people of all ages, and they've enjoyed the poet's works.
Reading Joyce is the literary equivalent of climbing Mount Everest. Many have tried but few have succeeded, and then there are the countless millions who think it's mad to even consider such an impossible feat.
They celebrated Yeats Day in Sligo, with tours and exhibits throughout the town. Poetry was recited at the
Yeats Memorial Building
. While Bloomsday tourists can follow Joyce's footsteps through Dublin, the Yeats crowd boated to the island of Innisfree on Lough Gill in commemoration of a Yeats poem.
This being the first year, most of the attendees were locals who appreciate William Butler Yeats. Unlike James Joyce, who decamped for the Continent, Mr. Yeats resided in Ireland and his words played a role in the Irish independence movement that began well before
Easter, 1916
.
The town of Sligo would like to expand on Yeats Day, so that in three years, they will be ready for a real party to celebrate the poet's 150th birthday.
Had I the heaven's embroidered cloths,
Enwrought with golden and silver light,
The blue and the dim and the dark cloths
Of night and light and the half-light,
I would spread the cloths under your feet:
But I, being poor, have only my dreams
I have spread my dreams under your feet;
Tread softly because you tread on my dreams.
Happy Yeats Day.